Skip to Main Content
It looks like you're using Internet Explorer 11 or older. This website works best with modern browsers such as the latest versions of Chrome, Firefox, Safari, and Edge. If you continue with this browser, you may see unexpected results.
Finding Resources in Accessit
Here are some books that you may find useful during your studies. Search the Bennies catalogue Accessit for more, or browse the Non-fiction collection NFS.
Romanticism

by

ISBN: 9780521753722

Publication Date: 2004-01-15

Critical introductions to a range of literary topics and genres. Romanticism offers guidance through the diversity of uses and meanings of the word 'romantic', not in terms of fixed definitions or essential qualifying characteristics, but rather in giving a helpful framework for questions and exploration. The focus throughout tends to be on the Western European cultural world of the latter half of the 18th century and the first half of the 19th, as befits English literary study, but the context is far broader.

Romanticism

by

Call Number: ENG 809.912 STA

ISBN: 9781876580810

Publication Date: 2009

The Cambridge Companion to British Romanticism

by

ISBN: 0521421934

Publication Date: 1993-01-30

This Companion offers a unique introduction, guide, and reference work for students and readers of Romantic literature. The age of British Romanticism was a period of turbulent transition between the professed stability of the Enlightenment before it and the Victorian middle-class culture which succeeded it. Against a background of international warfare, the Romantic age embodied in its greatest literature a sense of competing values and ideals explored sceptically in the creative process, rather than dogmatic certainties fulfilled in its completion. Recent scholarship has led to the rejection of the easy categories once used to label Romanticism, but until now there has been no concerted attempt to represent to students of the period the full range of conflicting forces responsible for its dynamic literature. The eleven original essays which make up this volume make a significant contribution to our understanding of the period, providing readers with clear and coherent access to the historical roots, intellectual ferment, and cultural range of British Romanticism. It includes a chronology of major publications and events, and an extensive guide to further reading.
ClickView
Peter Ackroyd reveals how the radical ideas of liberty that inspired the French Revolution opened up a world of possibility for great British writers such as William Blake, Samuel Taylor Coleridge and William Wordsworth, inspiring some of the greatest works of literature in the English language. Their ideas are the foundations of our modern notions of freedom. This programme in the BBC/OU's Romantics series explores the birth of the individual in modern society. The 18th century was a time of opulence and privilege for some. Europe was dominated by the twin authority of the Church and King - but beneath the surface, new forces were gathering to challenge their absolute rule. The French philosopher, Denis Diderot insisted that men must reason for themselves. His friend, Jean-Jacques Rousseau claimed civilization had corrupted mankind - to free themselves, men must listen to their emotions. Rousseau's writings gave birth to a hope for a new world of liberty, equality and fraternity. These ideas would fuel the greatest social upheaval in history - the French Revolution. In Britain, these 'Romantic' ideals would burst into the public arena in art and poetry. William Blake's engravings and poetry were howls of revolutionary anger: Blake made the liberation of the human spirit his life's work. William Wordsworth and Samuel Taylor Coleridge wrote one of the most powerful revolutionary works of the time; Lyrical Ballads. This volume of poetry was considered so dangerous that even as they composed, Wordsworth and Coleridge were being followed by government spies. This was the greatest period of sustained creativity in English literature - at a time of revolutionary change in which poets had the power to remake the world in their own image
ClickView
The Romantics - The Romantics were fascinated by the power of wild nature. This episode looks at how the modern notion of nature developed. The Industrial Revolution sought to dominate Nature as a means to create profit. Romantic artists would seek to replace this relationship of domination with one of reverence and understanding. The poet John Clare sought freedom in exploring the countryside around him. But the lands he loved were increasingly seen as units of production. When such lands were officially enclosed by Act of Parliament in 1809, the freedom to roam the countryside was curtailed. This shift in attitudes drove John Clare insane. It drove William Blake to write works of protest, such as the raging, tempestuous 'Jerusalem'. Both William Blake and Samuel Taylor Coleridge sought to understand man's true relation to nature by returning to the source - by observing and writing about the innocence of children. Others sought to reconnect themselves to Nature more directly - such as William Wordsworth, who wrote of his travels to the Alps, the Lake District and the Wye Valley. The ideas of the child, nature and scientific progress would collide in Mary Shelley's Frankenstein. This book is a Romantic manifesto - a warning that nature is not to be trifled with, that children are sacred, and science can corrupt our world. It is also a work of prophecy, still relevant in the 21st century.
You Tube
Romanticism is a historical movement that still hugely colours how we tend to feel and look at the world: it's responsible for the way we approach love, nature, business and children. This is its history.
You Tube
The Keats-Shelley House curator takes a walk through some of the rooms of the museum and explains why this place is so important.
Images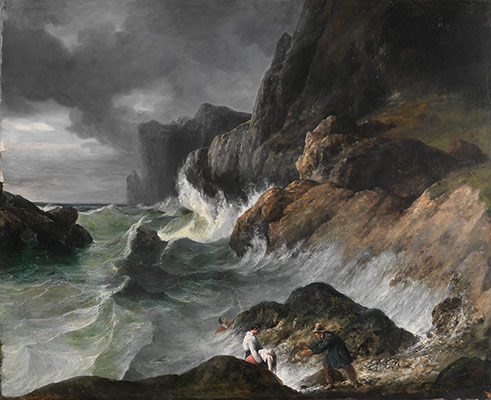 Romantic Circles
Romantic Circles is a refereed scholarly Website devoted to the study of Romantic-period literature and culture. There is a search function that leads to many articles and sites about major figures in Romantic poetry, including the Romantic poets, William Blake, Lord Byron, Percy Bysshe Shelley, William Wordsworth, John Keats and Samuel Taylor Coleridge.