Skip to Main Content
It looks like you're using Internet Explorer 11 or older. This website works best with modern browsers such as the latest versions of Chrome, Firefox, Safari, and Edge. If you continue with this browser, you may see unexpected results.
Library Opening and Closing Times
Library Displays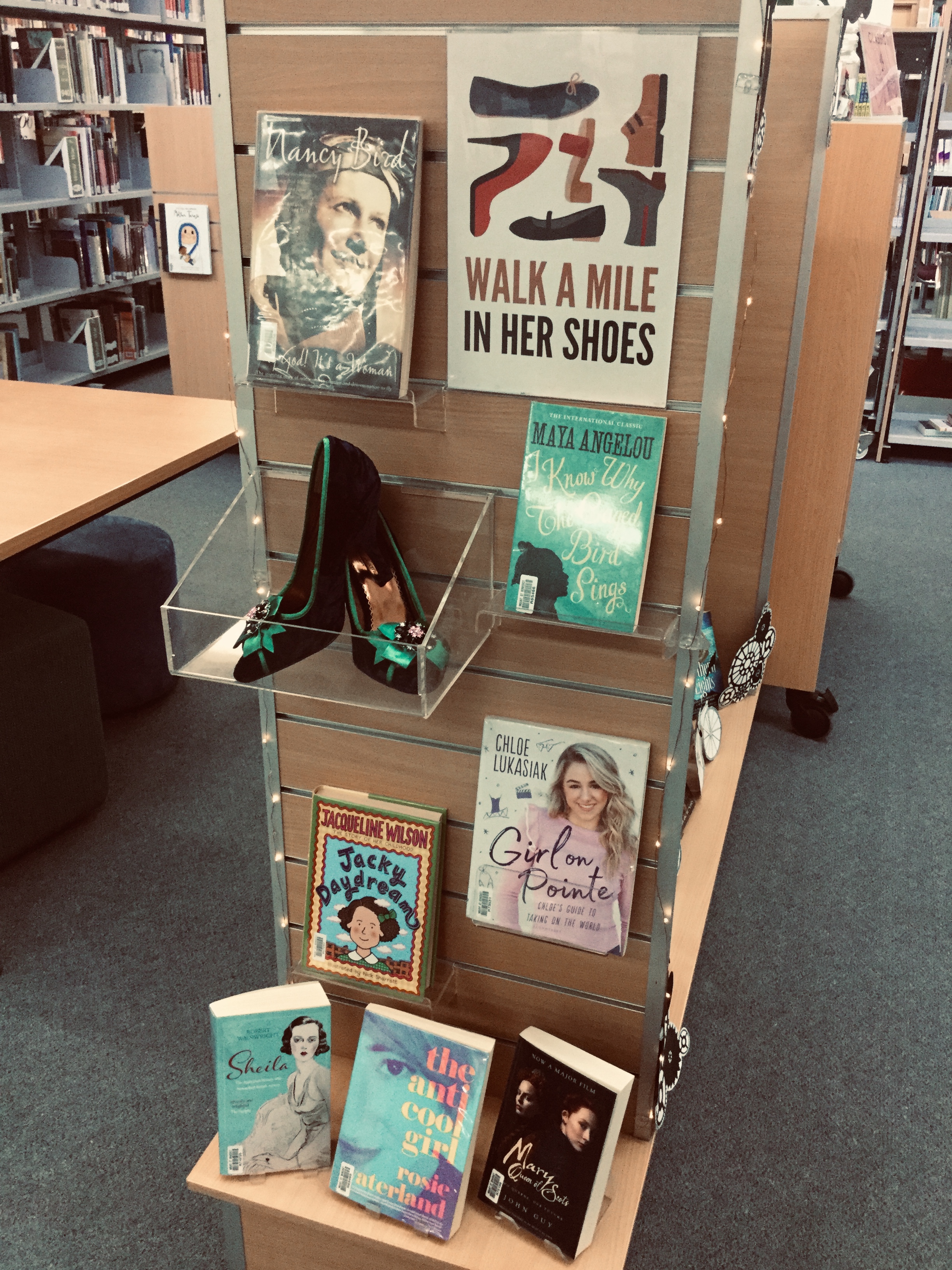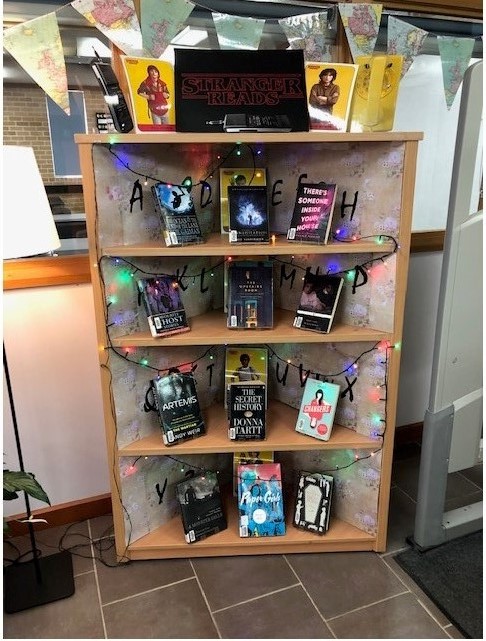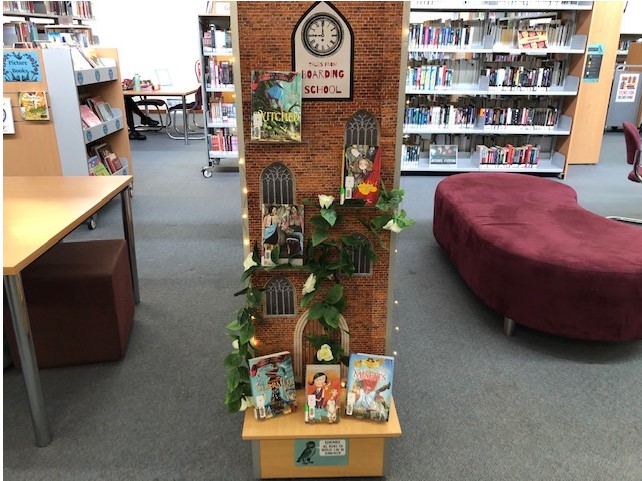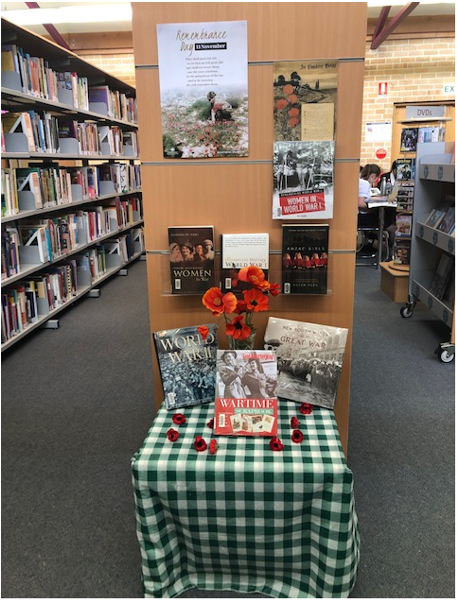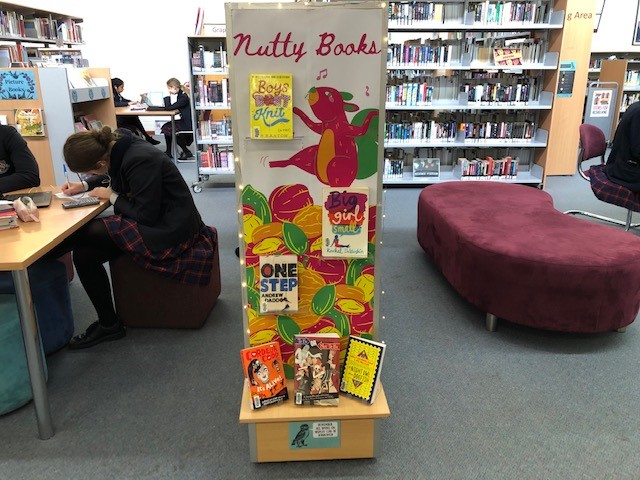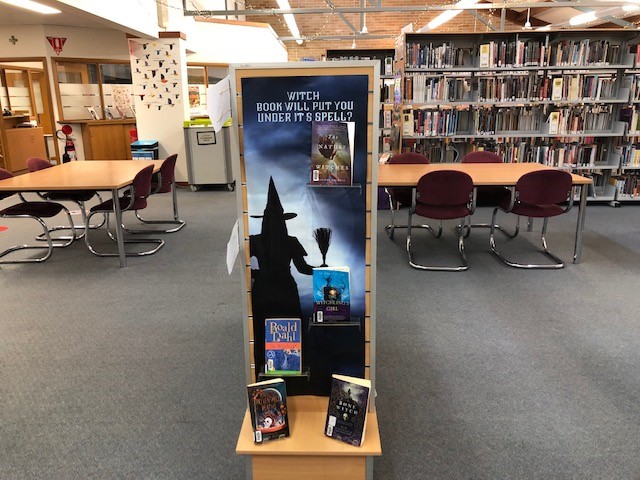 OverDrive e-books and audiobooks
Check out Sora—The new student reading app, by OverDrive
Sora provides the quickest and easiest way to get started with digital titles from our school. Students can simply log in using school credentials and instantly access hundreds of eBooks and audiobooks on virtually any device.
Get started today,
Download the free Sora app for Android or iOS
In Sora, find your school, then sign in using your Bennies username and password
Browse the

Explore

tab and borrow a book. Your book will open so you can start reading right away
For more help with Sora, go to help.soraapp.com
Self Care
New Books in the Library
I'll Be the One

by

Call Number: FIC REL LEE

ISBN: 0062936921

Publication Date: 2020

Diverse book recommended by The Today Show * A Kirkus Reviews Best Book of the Year * Bank Street Best Book of the Year * YALSA Best Fiction for Young Adults * ALA's Rainbow Book List Top 10 for Teen Readers The world of K-Pop has never met a star like this. Debut author Lyla Lee delivers a deliciously fun, thoughtful rom-com celebrating confidence and body positivity--perfect for fans of Jenny Han and Julie Murphy. Skye Shin has heard it all. Fat girls shouldn't dance. Wear bright colors. Shouldn't call attention to themselves. But Skye dreams of joining the glittering world of K-Pop, and to do that, she's about to break all the rules that society, the media, and even her own mother, have set for girls like her. She'll challenge thousands of other performers in an internationally televised competition looking for the next K-pop star, and she'll do it better than anyone else. When Skye nails her audition, she's immediately swept into a whirlwind of countless practices, shocking performances, and the drama that comes with reality TV. What she doesn't count on are the highly fat-phobic beauty standards of the Korean pop entertainment industry, her sudden media fame and scrutiny, or the sparks that soon fly with her fellow competitor, Henry Cho. But Skye has her sights on becoming the world's first plus-sized K-pop star, and that means winning the competition--without losing herself.

All the Pretty Things

by

Call Number: FIC MYS ARS

ISBN: 198489708X

Publication Date: 2021

"A skillfully plotted mystery, bursting with the glare and feverish energy of its summer amusement park setting. The atmosphere creeps up on you... and dark secrets await."--Holly Jackson, #1 New York Times bestselling author of A Good Girl's Guide to Murder For fans of Sadie and One of Us Is Lying comes a thriller about a boy who turns up dead under suspicious circumstances and the one girl who may be the key to solving the mystery of his untimely death. "A skillfully plotted mystery, bursting with the glare and feverish energy of its summer amusement park setting. The atmosphere creeps up on you... and dark secrets await."--Holly Jackson, #1 New York Times bestselling author of A Good Girl's Guide to Murder For fans of Sadie and One of Us Is Lying comes a thriller about a boy who turns up dead under suspicious circumstances and the one girl who may be the key to solving the mystery of his untimely death. For Ivy, summer means roller-coaster season, spinning cotton candy at the Fabuland amusement park, and hanging out with her best friend, Morgan. But this summer is different. One morning, Morgan finds a dead body. It's their former classmate Ethan, who was alive and working at Fabuland only the day before. To make matters worse, Morgan is taken to a hospital psych ward only days later, and she's not saying much--not even to Ivy. The police claim that Ethan simply took a bad fall, but Ivy isn't convinced and realizes it's up to her to get answers. What she finds is unsettling--it's clear that some people aren't being honest about Ethan's last night at Fabuland. Including Morgan. And the more secrets Ivy uncovers, the closer she gets to unraveling dark truths that will change her life forever. "A dark and timely thriller."-Amelia Brunskill, author of The Window

Zenobia July

by

Call Number: FIC REL BUN

ISBN: 0451479408

Publication Date: 2019

The critically acclaimed author of Felix Yz crafts a bold, heartfelt story about a trans girl solving a cyber mystery and coming into her own. Zenobia July is starting a new life. She used to live in Arizona with her father; now she's in Maine with her aunts. She used to spend most of her time behind a computer screen, improving her impressive coding and hacking skills; now she's coming out of her shell and discovering a community of friends at Monarch Middle School. People used to tell her she was a boy; now she's able to live openly as the girl she always knew she was. When someone anonymously posts hateful memes on her school's website, Zenobia knows she's the one with the abilities to solve the mystery, all while wrestling with the challenges of a new school, a new family, and coming to grips with presenting her true gender for the first time. Timely and touching, Zenobia July is, at its heart, a story about finding home.

Wendy Darling

by

Call Number: FIC FAN OAK

ISBN: 9781940716954

Publication Date: 2015

"A dark twist on a familiar tale that readers will have difficulty putting down." (School Library Journal) Wendy Darling has a perfectly agreeable life with her parents and brothers in wealthy London, as well as a budding romance with Booth, the neighborhood bookseller's son. But one night, while their parents are at a ball, the charmingly beautiful Peter Pan comes to the Darling children's nursery, and--dazzled by this flying boy with god-like powers--they follow him out of the window and straight on to morning into Neverland, an intoxicating island of freedom. As time passes in Neverland, Wendy realizes that this Lost Boy's paradise of turquoise seas, mermaids, and pirates holds terrible secrets rooted in blood and greed. As Peter's grasp on her heart tightens, she struggles to remember where she came from--and begins to suspect that this island of dreams, and the boy who desires her, have the potential to transform into an everlasting nightmare. As time passes in Neverland, Wendy realizes that this Lost Boy's paradise of turquoise seas, mermaids, and pirates holds terrible secrets rooted in blood and greed. As Peter's grasp on her heart tightens, she struggles to remember where she came from--and begins to suspect that this island of dreams, and the boy who desires her, have the potential to transform into an everlasting nightmare.

The Library of the dead

by

Call Number: FIC FAN HUC

ISBN: 9781529039474

Publication Date: 2021

When a child goes missing in Edinburgh's darkest streets, young Ropa investigates. She'll need to call on Zimbabwean magic as well as her Scottish pragmatism to hunt down clues. But as shadows lengthen, will the hunter become the hunted?

When ghosts talk, she will listen...

Ropa dropped out of school to become a ghostalker. Now she speaks to Edinburgh's dead, carrying messages to the living. A girl's gotta earn a living, and it seems harmless enough. Until, that is, the dead whisper that someone's bewitching children--leaving them husks, empty of joy and life. It's on Ropa's patch, so she feels honor-bound to investigate. But what she learns will change her world.

She'll dice with death (not part of her life plan...), discovering an occult library and a taste for hidden magic. She'll also experience dark times. For Edinburgh hides a wealth of secrets, and Ropa's gonna hunt them all down.
Featured Author - Cynthia Hand
Cynthia Hand is the New York Times bestselling author of several books for teens, including the UNEARTHLY trilogy, THE LAST TIME WE SAY GOODBYE, MY LADY JANE and MY PLAIN JANE (with fellow authors Brodi Ashton and Jodi Meadows), THE AFTERLIFE OF HOLLY CHASE, THE HOW AND THE WHY, and the upcoming novel MY CALAMITY JANE (June 2, 2020, again with Ashton and Meadows). Before turning to writing for young adults, she studied literary fiction and earned both an M.F.A. and a Ph.D. in fiction writing. She currently resides in Boise, Idaho, with a husband who's addicted to buying typewriters, two kids, two cats, one crazy dog, and a mountain of books.
Read a Series
Dash & Lily's book of dares

by

Call Number: FIC REL COH

ISBN: 9781760878283

Publication Date: 2020

Told in the alternating voices of Dash and Lily, two sixteen-year-olds carry on a wintry scavenger hunt at Christmas-time in New York, neither knowing quite what - or who - they will find.

The twelve days of Dash & Lily

by

Call Number: FIC REL COH

ISBN: 9781760293826

Publication Date: 2016

Dash and Lily have been dating for nearly a year, but when Lily's beloved Grandfather falls ill, the repercussions take their toll on everyone. Even tough they're still together, somehow the magic has gone out of their relationship and it's clear that Lily has fallen out of love with life. Action must be taken! Dash teams up with Lilly's brother and a host of their friends, determined to get Lily's groove back in time for Christmas.

Mind the gap, Dash & Lily

by

Call Number: FIC REL COH

ISBN: 1760526215

Publication Date: 2020

After Dash gets accepted into Oxford University and Lily stays in New York to take care of her dog-walking business, the devoted couple struggle to make a long-distance relationship work. And when Dash breaks the news that he won't be coming home for Christmas, Lily makes a decision: if Dash can't return to New York, she'll just have to go to London. It's a perfect romantic gesture, that spins out of Lily's control. Soon Dash and Lily are feeling more of a gap between them even though they're in the same city. Will London bring them together again or will it be their undoing?
Featured Biographies
Growing up Aboriginal in Australia

by

Call Number: BIO 305.89 GRO

ISBN: 9781863959810

Publication Date: 2018

Childhood stories of family, country and belonging
What is it like to grow up Aboriginal in Australia? This anthology, compiled by award-winning author Anita Heiss, showcases many diverse voices, experiences and stories in order to answer that question.

Accounts from well-known authors and high-profile identities sit alongside those from newly discovered writers of all ages. All of the contributors speak from the heart – sometimes calling for empathy, oftentimes challenging stereotypes, always demanding respect.

This groundbreaking collection from the Growing Up series will enlighten, inspire and educate about the lives of Aboriginal people in Australia today.

Contributors include: Tony Birch, Deborah Cheetham, Adam Goodes, Terri Janke, Patrick Johnson, Ambelin Kwaymullina, Jack Latimore, Celeste Liddle, Amy McQuire, Kerry Reed-Gilbert, Miranda Tapsell, Jared Thomas, Aileen Walsh, Alexis West, Tara June Winch, and many, many more.

Stronger now

by

Call Number: BIO 363.325095 MCL

ISBN: 9781742611570

Publication Date: 2012

On 12 October 2002, the beautiful island of Bali was hit by the deadliest terrorist attack in its history. It claimed the lives of 202 people and left 240 others severely injured. Nicole McLean was one of those 240. It was her first night in Bali, and Nicole and her friends decided to go to Paddy's Bar for a drink and a dance. Nicole was on the dance floor when the suicide bomber detonated. That night she was critically injured and was left fighting for her life. Despite being one of the first Australians to be evacuated back home by the RAAF, Nicole was to lose her right arm and spend weeks hovering between life and death

This is her extraordinary story. Shown through Nicole's eyes and those closest to her as they watched the horror unfold before them, this is a gripping personal account of what happened that fateful night and Nicole's difficult yet incredible journey towards recovery, motherhood and marriage.

Ten years on and the scars from Bali have not faded. But while those left behind will never be forgotten, this book is a testament to the resilience and strength of human spirit of those that survived. It is a story about hope, second chances and never giving up.

Live Like Sally

by

Call Number: BIO 797.3 FIT

ISBN: 9780975703748

Publication Date: 2016

One of Australia's most popular athletes, Sally Fitzgibbons shares the secrets of becoming one of the world's best in her debut book, LIVE LIKE SALLY. Sally Fitzgibbons is one of the most loveable women in Australian sport, having built a wildly diverse and record-breaking career as a professional surfer. Known for her infectious positivity, beneath the famous smile is a passionate competitor who's dedicated herself to winning a world title. But amidst it all is the poise of an independent young woman, living a holistic and healthy lifestyle, proud and in control of her decisions. LIVE LIKE SALLY shares the knowledge and lessons Sally has learned in areas like fitness, nutrition, body image, victory, defeat and adventure - all splashed with salt water and told with a smile!
TED Talks
TED is a nonprofit devoted to spreading ideas, usually in the form of short, powerful talks (18 minutes or less). TED began in 1984 as a conference where Technology, Entertainment and Design converged, and today covers almost all topics — from science to business to global issues — in more than 100 languages. Meanwhile, independently run TEDx events help share ideas in communities around the world.
Inside a Dog
Inside a Dog is a place for teen readers and the home of Inky, the reading wonder-dog. Here you can:
Find great reads
Share your reviews of books you love – or hate
Gain insight into an authors' thoughts about writing and reading with our Writer in Residence for February - Kylie Fornasier.
Join or create a book club to talk about your reading
Current Newsletter
Not sure what to read?
---
Nobody is Normal Animation
Everyone's different, so nobody is normal. But it can be tough if that makes you feel left out or alone. However weird you feel inside, you're not alone.
Books into Movies/TV Series
Four gifted orphans are recruited by an eccentric benefactor to go on a secret mission. Placed undercover at a boarding school known as The Institute, they must foil a nefarious plot with global ramifications, while creating a new sort of family along the way.
PANIC is a new Amazon Prime Video one-hour drama series, written and created by Lauren Oliver (based on her bestselling novel). It takes place in a small Texas town, where every summer the graduating seniors compete in a series of challenges, winner takes all, which they believe is their one and only chance to escape their circumstances and make their lives better. But this year, the rules have changed — the pot of money is larger than ever and the game has become even more dangerous. The players will come face to face with their deepest, darkest fears and be forced to decide how much they are willing to risk in order to win.
Meet The Irregulars: Bea, Jessie, Billy, Spike and Leo. Join this ragtag gang as they uncover the demonic and mysterious depths of Victorian London alongside the sinister Dr Watson and his enigmatic business partner, Sherlock Holmes.
Avery Grambs has a plan for a better future: survive high school, win a scholarship, and get out. But her fortunes change in an instant when billionaire Tobias Hawthorne dies and leaves Avery virtually his entire fortune. The catch? Avery has no idea why--or even who Tobias Hawthorne is. To receive her inheritance, Avery must move into sprawling, secret passage-filled Hawthorne House, where every room bears the old man's touch--and his love of puzzles, riddles, and codes.
The new series follows five high school students who enter detention - with only four walking out alive. A tense investigation ensues, with the four all having the reasons for being potential suspects... but all is not as it seems, and one of them is lying.
Follow us on Instagram!
Make sure to follow the Bennies Library Instagram page where we will be uploading new books, quotes and displays.
Book of the Month
Rooftoppers

by

Call Number: FIC ADV RUN

ISBN: 152662480X

Publication Date: 2020

Everyone tells Sophie that she was orphaned in a shipwreck, but Sophie is convinced her mother also survived. When no one believes her, Sophie sets out to prove them wrong. On the run from the authorities, Sophie finds Matteo, a boy who walks tightropes and lives in the sky. In a race across the rooftops of Paris, will they be able to find her mother, before it's too late?
Spineout Digital Magazine
Find your next book here at SpineOut
Read the latest fiction reviews or ask the Library staff how to submit a review yourself
Acknowledgement of Country
Inspirational Quote
Current Displays
Christmas is coming
Handmade with Love
Summer Reads
Get wrapped up in a good book
Nutcracker
What are LibGuides?
LibGuides are a helpful online aid that students can use to support their research especially for assessments. They offer the ability for the Library Staff to integrate a diverse range of information sources and instructional support materials in an organised manner that students are finding easy to navigate.
Libguides are a great place for students to start their assessments providing them with a 'springboard' for their academic research. The guides contain listings of recommended resources for finding information such as books, eBooks, databases, or recommended websites and can be embedded with relevant documents, images, widgets and media files. LibGuides can be created for a specific subject, subtopic or even specific class assignments. LibGuides provide an effective and attractive support for learning which is interactive, engaging, Web 2.0 friendly and available 24/7.
Mrs Shiels' Number of the Week
Mrs Shiels' Number of the Week - 641 - Baking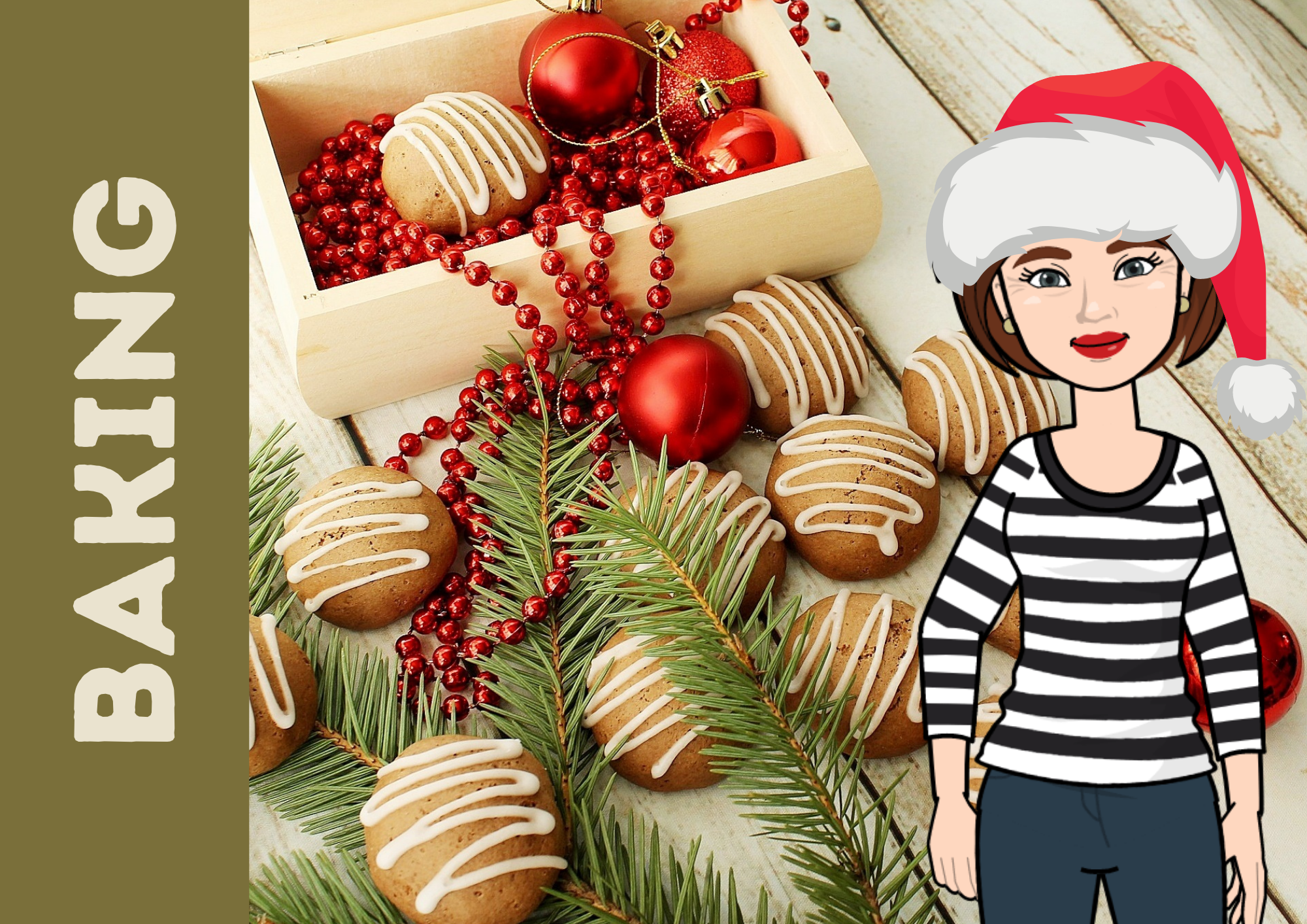 Kids' party cakes

Call Number: NFS 641.8 KID

ISBN: 9781863964180

Publication Date: 2005

A big book of fabulous ideas for making birthday cakes for kids. The cake part is easy – there are recipes for simple cakes, or you can use a packet mix or a cake you have bought. It's the decorating that's the fun part and these cakes are mostly decorated with simple icings and lots of lollies.

Included are more than 120 delightful, witty individual party cakes.

The Cake Decorator's Bible

by

Call Number: NFS 641.8 NIL

ISBN: 9781780190884

Publication Date: 2012

This clear and comprehensive book takes reader through all the cake making and cake decorating skills. Beginning with the basics, there are tried and tested recipes for a wide variety of classic sponge and fruit cakes, and simple icings and frostings for quick and easy finishing. Readers will find it easy to follow the detailed illustrated step-by-step guides to perfect cake making and decorating techniques to create a host of varied finishes, from the simple to the lavish. There is guidance on creative embellishments and decorations, from simple bought decorations, such as coloured ribbons and flowers, sweets, nuts and crystallized fruits, to home-made chocolate run-outs, curls and cut-outs. The second half of the book consists of 100 step-by-step projects, using the techniques and skills acquired to make beautiful cakes for every occasion. The detailed instructional photography guarantees great results every time, and the glorious picture of every finished cake shows the reader exactly what they should be aiming to achieve.

Classic cakes : sponges, teacakes, fruit cakes

Call Number: NFS 641.8653 CLA

ISBN: 9781863968737

Publication Date: 2009

In this beautiful collection you'll find flourless chocolate cake, mud cakes, hummingbird cake, sponge cakes, coffee cakes, orange cakes, butterfly cakes, delightful little cupcakes – a world of cakes in fact. To help you along, there's information on baking techniques and the equipment you'll need to become a master baker.

Bake Me I'm Yours... Cupcake Celebration

by

Call Number: NFS 641.8 SMI

ISBN: 9780715337707

Publication Date: 2010

Over 100 irresistible ways to bake, frost, decorate, display, and indulge in cupcakes Treat...Yourself to a piece of cupcake heaven, with divine designs that are devilishly simple Tempt...Everyone with a look they'll love, from sweet and stylish to fun and fashionable Transform...The traditional party cake into a tower of enticing treats to impress the guests The little cake with big ideas...Weddings, Birthdays, Valentine's Day, Engagements, Anniversaries, Easter, Halloween, Christmas, Mother's Day, Christenings, Thanksgiving, New Year, Tea Parties, Picnics, and more

Cookies

Call Number: NFS 641.8654 COO

ISBN: 9781863966436

Publication Date: 2007

A pretty little book filled with recipes for pretty little cookies.

There are drop cookies and cut out cookies and sliced cookies and moulded cookies, along with recipes for simple icings and toppings. Just as the fragrant aroma of chocolate-chip cookies fresh from the oven is irresistible, so is this lovely little book.

Bake & decorate : tea time luxury

Call Number: NFS 641.86539 CAI

ISBN: 9781844008186

Publication Date: 2010

She's the original "grande dame" of cakes' - foodepedia.co.uk'Cairn's cakes are undeniably pretty' - TelegraphBaking and cake decorating have never been more popular. There are many books on the market that teach how to decorate cakes to a high finished standard, however there are very few that focus on delicious cake recipes and simple but effective decoration. If you thought cake decorating was costly and difficult, this is the book that will change your mind forever. Fiona Cairns is bursting with new ideas for making delicious, visually stunning cakes and biscuits easy - even for the less experienced cook - and for far less money than you thought. From an eye-popping gold leaf-encased torte for a special celebration, to wickedly sophisticated chocolate-chilli cupcakes, Fiona shows every aspiring hostess how to achieve glamorous, fun entertaining from her own kitchen, using easy techniques and tricks that make cake decorating achievable for all. Fiona's cake recipes have the sensual deliciousness often lacking in the sterile creations of other cake decorators. Be transported to a summer garden by the whole crystallised roses on top of a cake filled with the heady flavours of orange blossom and pistachio, or celebrate springtime with a white chocolate cardamom truffle cake, adorned with sugar eggs and fresh spring leaves. Children and the young at heart alike will adore the warmth of Fiona's cakes baked inside ice-cream cones, topped with pastel buttercream that won't melt in the sun, while everyone can now enjoy the vegan fruit cake recipe that formed the centrepiece for Heather Mills' marriage to Paul McCartney. Here, finally, is the cake book where every recipe is a keeper and each stunning creation made easy to achieve.
Mrs Shiels' recommended reads
Emma

by

Call Number: GRA F AUS

ISBN: 9780785156864

Publication Date: 2012

Marvel continues its bestselling graphic novel adaptations of Jane Austen's classics. Award-winning author Nancy Butler, adapter of Marvel's best-selling Adaptations, Sense and Sensibility and Pride and Prejudice brings you another Jane Austen classic. Joined with the beautiful illustrations of Janet Lee, Butler brings to life Austen's most precocious heroine, Emma Woodhouse. Discover what has made this story so enduring, as its re-told in the Mighty Marvel manner.

Magisterium: The Iron Trial

by

Call Number: FIC FAN BLA

ISBN: 9780552567732

Publication Date: 2015

Think you know magic?
Think again.
The Magisterium awaits . . .
Most people would do anything to get into the Magisterium and pass the Iron Trial.
Not Callum Hunt.
Call has been told his whole life that he should never trust a magician. And so he tries his best to do his worst - but fails at failing.
Now he must enter the Magisterium.
It's a place that's both sensational and sinister. And Call realizes it has dark ties to his past and a twisty path to his future.
The Iron Trial is just the beginning. Call's biggest test is still to come . . .

Again, but Better

by

Call Number: FIC REL RIC

ISBN: 9781250299253

Publication Date: 2019

Shane has been doing college all wrong. Pre-med, stellar grades, and happy parents...sounds ideal -- but Shane's made zero friends, goes home every weekend, and romance...what's that? Her life has been dorm, dining hall, class, repeat. Time's a ticking, and she needs a change -- there's nothing like moving to a new country to really mix things up. Shane signs up for a semester abroad in London. She's going to right all her college mistakes: make friends, pursue boys, and find adventure! Easier said than done. She is soon faced with the complicated realities of living outside her bubble, and when self-doubt sneaks in, her new life starts to fall apart. Shane comes to find that, with the right amount of courage and determination, one can conquer anything. Throw in some fate and a touch of magic - the possibilities are endless.
Featured Graphic Novels
Kristy and the snobs

by

Call Number: GRA F MAR

ISBN: 9781761122262

Publication Date: 2021

Kristy's mum got remarried, and their family moved to the ritzy neighbourhood across town. The other members of the Baby-sitters Club think it's a good opportunity to get some new business, but the kids who live nearby aren't very friendly. The criticize Kristy's clothes and make fun of the BSC. And, worst of all, they laugh at Louie, Kristy's pet collie, who's getting old and not feeling well. These kids are total snobs! But if anyone can put them in their place, it's the Baby-sitters Club!

Jo

by

Call Number: GRA F GRO

ISBN: 9780062875969

Publication Date: 2020

A modern-day graphic novel adaptation of Little Women that explores identity, friendships, and new experiences through the eyes of thirteen-year-old Jo March. A must-read for fans of Raina Telgemeier. With the start of eighth grade, Jo March decides it's time to get serious about her writing and joins the school newspaper. But even with her new friend Freddie cheering her on, becoming a hard-hitting journalist is a lot harder than Jo imagined. That's not all that's tough. Jo and her sisters--Meg, Beth, and Amy--are getting used to a new normal at home, with their dad deployed overseas and their mom, a nurse, working overtime. And while it helps to hang out with Laurie, the boy who just moved next door, things get complicated when he tells Jo he has feelings for her. Feelings that Jo doesn't have for him...or for any boy. Feelings she's never shared with anyone before. Feelings that Jo might have for Freddie. What does it take to figure out who you are? Jo March is about to find out.

Clash

by

Call Number: GRA F MIL

ISBN: 9780358242192

Publication Date: 2021

Kayla Miller, the New York Times best-selling author-illustrator of Click,Camp, and Act, returns with the next chapter of Olive's story, tackling new friendships, middle school conflicts,and the importance of empathy. Olive, meets Natasha. There's a new kid in town! From the moment Natasha sets foot in class, it's clear she's one of the coolest kids in sixth grade. Everyone wants to be her friend, including Olive . . . but things might not be so easy. Olive tries her best to befriend Nat, but it seems like the only thing they have in common is that they both want to hang out with Olive's friends! Watching as Natasha gets closer with some of her best buds, Olive can't help but worry that they're starting to like Nat more than they like her . . and who could blame them? Nat is just that cool . . . and Olive is, well, just Olive. The New York Times best-selling author-illustrator Kayla Miller delivers a nuanced look at navigating middle school friendships and the importance of both empathy and respect.