Skip to main content
It looks like you're using Internet Explorer 11 or older. This website works best with modern browsers such as the latest versions of Chrome, Firefox, Safari, and Edge. If you continue with this browser, you may see unexpected results.
Library Opening and Closing Times
Library Displays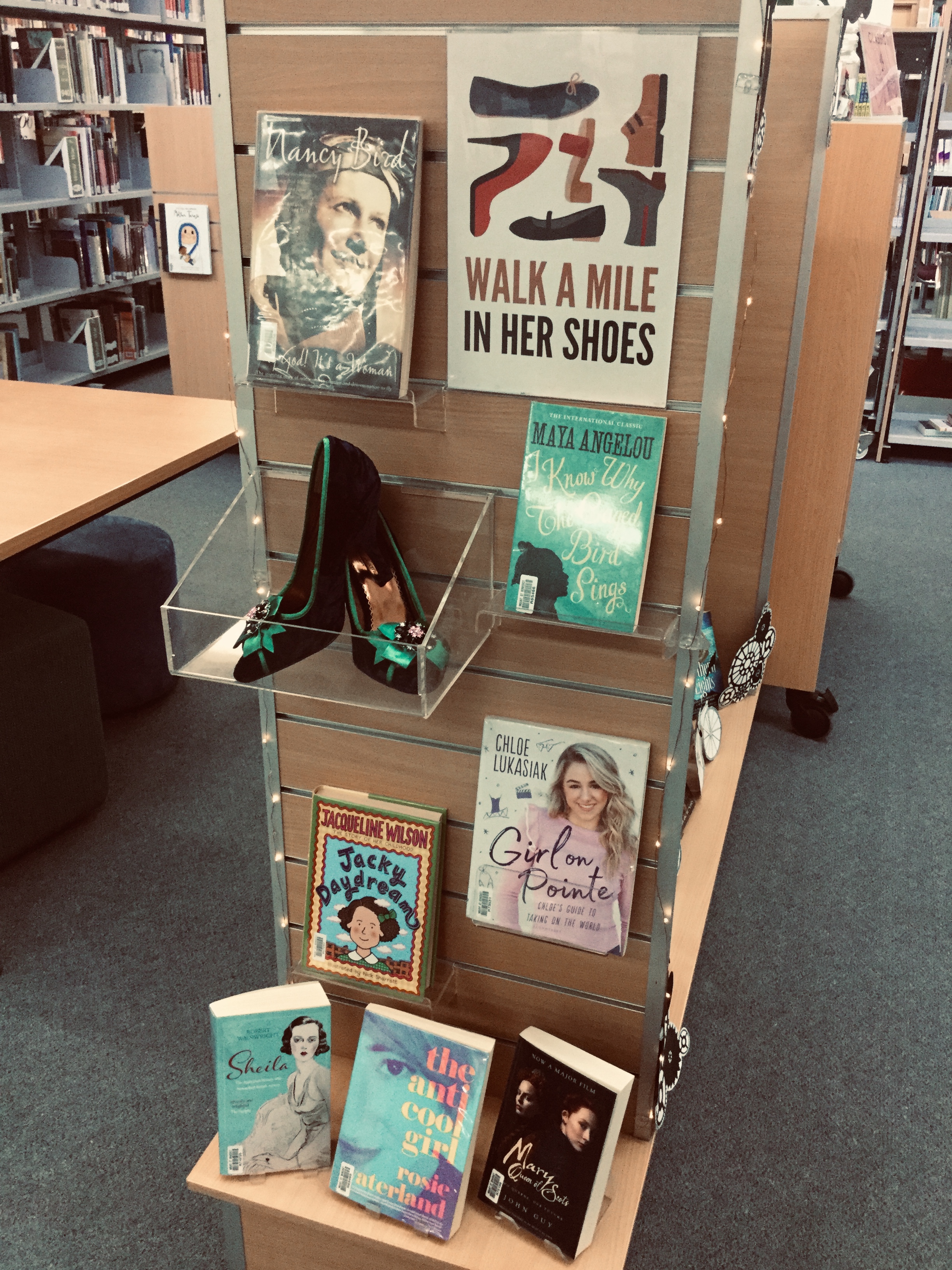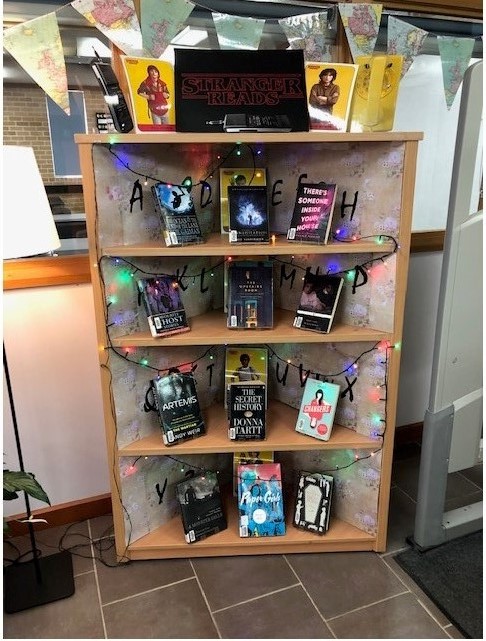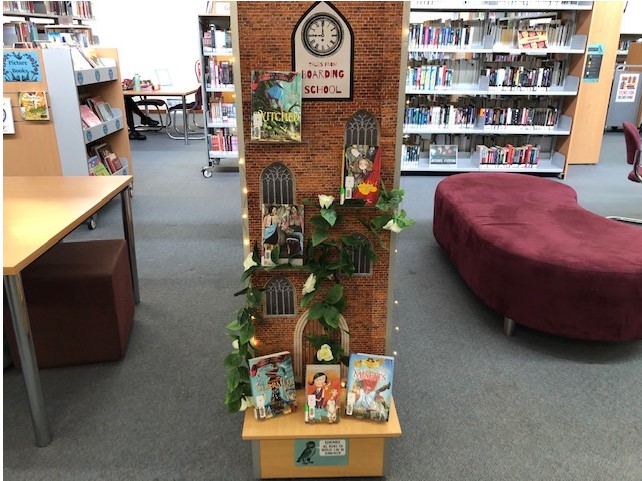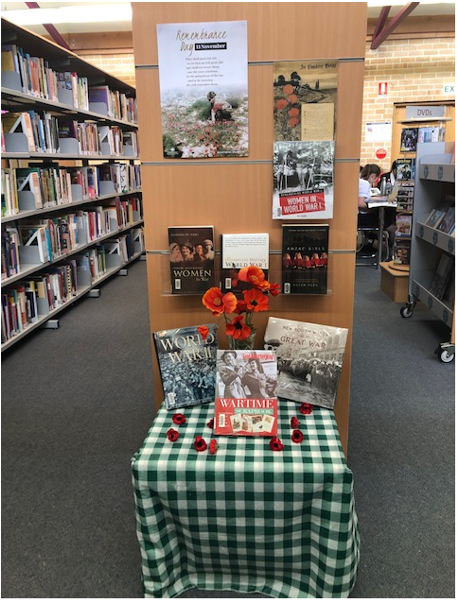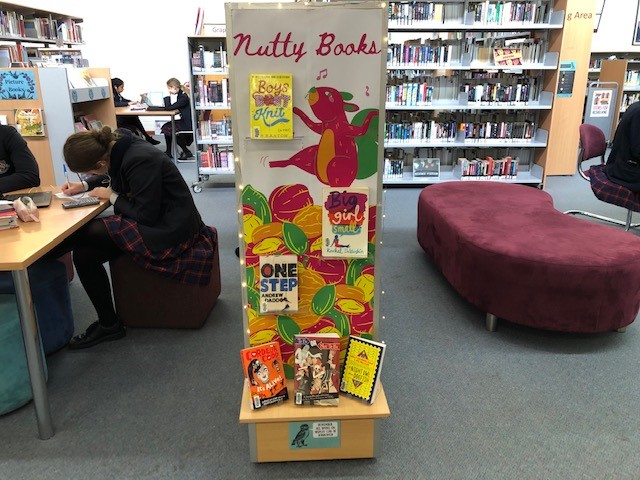 OverDrive e-books and audiobooks
Check out Sora—The new student reading app, by OverDrive
Sora provides the quickest and easiest way to get started with digital titles from our school. Students can simply log in using school credentials and instantly access hundreds of eBooks and audiobooks on virtually any device.
Get started today,
Download the free Sora app for Android or iOS
In Sora, find your school, then sign in using your Bennies username and password
Browse the

Explore

tab and borrow a book. Your book will open so you can start reading right away
For more help with Sora, go to help.soraapp.com
New eBooks in the Library
Don't Read the Comments

by

ISBN: 9781335016027

Publication Date: 2020

We all need a place to escape from the real world. For Divya and Aaron, it's the world of online gaming. While Divya trades her rising-star status for sponsorships to help her struggling single mom pay rent, Aaron plays as a way to fuel his own dreams of becoming a game developer - and as a way to disappear when his mom starts talking about medical school. After a chance online meeting, the pair decides to team up - but soon find themselves the targets of a group of internet trolls who begin launching a real-world doxxing campaign, threatening Aaron's dream and Divya's actual life. They think can drive her out of the game, but Divya's whole world is on the line... And she isn't going down without a fight. "Wonderfully geeky and deeply compassionate." --Marieke Nijkamp, #1 New York Times Bestselling Author

Snowglobe

by

ISBN: 9781509885800

Publication Date: 2018

A spellbinding story discovering the power of magic from Amy Wilson, critically acclaimed author of A Girl Called Owl. Clementine has been intrigued by the mysterious house in the middle of the city ever since she can remember. One day, she ventures in to find the place full of snowglobes, all of them swirling with stars and snow, and each containing a solitary figure. The figures are moving, and Clementine finds she is able to talk to them - and discovers that this mysterious house is a magician's prison. Each globe holds a magician and they are watched over by Gan, the lonely and bitter keeper of the house.As she learns more about the magic each snowglobe holds, Clementine agrees to join the magicians in trying to break the spell that traps them, unwittingly unleashing a struggle for power that could put the future of magic itself in danger.

Enchantée

by

ISBN: 9781250231963

Publication Date: 2019-02-05

Love. Magic. Revolution...Enchantée is Gita Trelease's imaginative debut fantasy about an impoverished magician desperate to provide for her beloved sister on the eve of the French Revolution. "Deliciously addictive." --Stephanie Garber, author of Caraval "A heady, sparkling dream of a book." --Margaret Rogerson, author of An Enchantment of Ravens "An utterly beguiling spell." --Laura Sebastian, author of Ash Princess Paris is a labryinth of twisted streets filled with beggars and thieves, revolutionaries and magicians. Camille Durbonne is one of them. She wishes she weren't... When smallpox kills her parents, Camille must find a way to provide for her younger sister while managing her volatile brother. Relying on magic, Camille painstakingly transforms scraps of metal into money to buy food and medicine they need. But when the coins won't hold their shape and her brother disappears with the family's savings, Camille pursues a richer, more dangerous mark: the glittering court of Louis XVI and Marie Antoinette. Using dark magic forbidden by her mother, Camille transforms herself into a baroness and is swept up into life at the Palace of Versailles, where aristocrats both fear and hunger for magic. As she struggles to reconcile her resentment of the rich with the allure of glamour and excess, Camille meets a handsome younge inventor, and begins to believe that love and liberty may both be possible. But magic has its costs, and soon Camille loses control of her secrets. And when revolution erupts, Camille must choose--love or loyalty, democracy or aristocracy, reality of magic--before Paris burns.
Featured Author - Jenny Han
Jenny Han is the #1 New York Times bestselling author of the To All the Boys I've Loved Before series.
She is an executive producer on all three Netflix films-- To All the Boys I've Loved Before, To All the Boys: P.S. I Still Love You, and To All the Boys: Always and Forever. She is also the author of the New York Times bestselling Summer I Turned Pretty series. Her books have been published in more than thirty languages. A former librarian, Jenny earned her MFA in creative writing at the New School. She lives in Brooklyn, New York.
Featured Picture Books
Refugees and Migrants

by

Call Number: PIC F REF

ISBN: 9781438050201

Publication Date: 2017

With our 24/7 news cycle and constant access to the latest headlines, the world can be a scary place. Now imagine you're a child trying to make sense of it all! What does this news mean? How does it affect me? That's where Children in Our World can help. This beautifully illustrated non-fiction series takes a timely look at today's biggest issues and sensitively explains the crises that dominate the news in an appropriate way for young children. Each book uses relatable comparisons, carefully researched text, and striking illustrations to help kids understand the many difficulties that children just like them face in the world today. Refugees and Migrants discusses the questions "What does it mean to be a refugee or a migrant?" and "Why would people leave their homes?" It answers kids' questions, offers reassurance, and empowers them with ways they can help those affected. Where issues are not appropriate to describe in words, award-winning illustrator Hanane Kai uses a deft hand to create powerful illustrations that help children visualize the people impacted by poverty, hunger, war, racism, and more. All of the images are sensitively rendered and perfectly suited for younger children. These books are an excellent cross-curricular resource -- use them to explore these important issues and tie them into discussions about food, wealth, compassion, empathy, and current affairs. (Ages 6-10)

Family

by

Call Number: PIC F MUI

ISBN: 9781925936285

Publication Date: 2020

Family is a thoughtful contemplation for all to learn the different ways that family makes us whole. This beautifully illustrated children's picture book shows everyone that 'family' can be about heart and home; an endless sky; stories and songs. It 'learns' us how to be with each other and with Country. Families come in all shapes and sizes, and this remarkably simple story teaches us all, that family can be many things.
This is the second book from the Our Place series, that introduces young minds to First Nations' cultural philosophies that Aunty Fay Muir, a Boonwurrung Elder holds close to her heart.

Diary of a Wombat

by

ISBN: 0207199957

Publication Date: 2002-10-23

A delightful and entertaining peek into the life of one very busy wombat! Monday Morning: Slept.Afternoon: Slept.Evening: Ate.Scratched.Night: Ate.A typical day. Don't be fooled. This wombat leads a very busy and demanding life. She wrestles unknown creatures, runs her own digging business, and most difficult of all - trains her humans. She teaches them when she would like carrots, when she would like oats and when she would like both at the same time. But these humans are slow learners.Find out how one wombat - between scratching, sleeping and eating - manages to fit the difficult job of training humans into her busy schedule.Ages 3-7
Featured Biographies
The Convict's Daughter

by

Call Number: BIO 994 GIL

ISBN: 9781760630928

Publication Date: 2018

A dramatic and fast-paced biography of a currency lass born to convicts who gained their freedom and then their fortune in 1840s Sydney. At the age of 15 Mary Ann Gill slipped out her bedroom window to elope with a gentleman settler, but when her father discovered his daughter's disappearance he pursued the couple and fired two pistols at his daughter's suitor, unleashing a national scandal.

The Women Who Made New York

by

Call Number: BIO 974.71 SCE

ISBN: 9781580056533

Publication Date: 2016

Read any history of New York City and you will read about men. You will read about men who were political leaders and men who were activists and cultural tastemakers. These men have been lauded for generations for creating the most exciting and influential city in the world. But that's not the whole story. The Women Who Made New York reveals the untold stories of the phenomenal women who made New York City the cultural epicentre of the world. Many were revolutionaries and activists, like Zora Neale Hurston and Audre Lorde. Others were icons and iconoclasts, like Fran Lebowitz and Grace Jones. There were also women who led quieter private lives but were just as influential, such as Emily Warren Roebling, who completed the construction of the Brooklyn Bridge when her engineer husband became too ill to work.Paired with striking, contemporary illustrations by artist Hallie Heald, The Women Who Made New York offers a visual sensation,one that reinvigorates not just New York City's history but its very identity.

A Fortunate Life

by

Call Number: BIO 994.104 FAC

ISBN: 9780143003540

Publication Date: 2005

Born in 1894, Albert Facey lived the rough frontier life of a sheep farmer, survived the gore of Gallipoli, raised a family through the Depression, and spent 60 years with his beloved wife, Evelyn. Despite enduring hardships we can barely imagine today, Facey always saw his life as a "fortunate" one. A true classic of Australian literature, his simply written autobiography is an inspiration. It is the story of a life lived to the full--the extraordinary journey of an ordinary man.
Inside a Dog
Inside a Dog is a place for teen readers and the home of Inky, the reading wonder-dog. Here you can:
Find great reads
Share your reviews of books you love – or hate
Gain insight into an authors' thoughts about writing and reading with our Writer in Residence for February - Kylie Fornasier.
Join or create a book club to talk about your reading
Current Newsletter
Celebrating NAIDOC Week 2021
Not sure what to read?
---
Books into Movies
Diagnosed with a mental illness during his senior year of high school, a witty, introspective teen struggles to keep it a secret while falling in love with a brilliant classmate who inspires him to open his heart and not be defined by his condition.
Clare, a young Irish convict, chases a British officer through the rugged Tasmanian wilderness and is bent on revenge for a terrible act of violence the man committed against her family. On the way, she enlists the services of Aboriginal tracker Billy, who is marked by trauma from his own violence-filled past.
The YA dystopian sci-fi novel is about a 12-year-old boy, Todd Hewitt, who is the only boy from a town full of men where everyone can hear everyone else's thoughts. He flees from town with his dog when he realizes something is very wrong with the town and comes across a girl that curiously managed to survive whatever wiped out the female townspeople.
Nobody is Normal Animation
Everyone's different, so nobody is normal. But it can be tough if that makes you feel left out or alone. However weird you feel inside, you're not alone.
Refugee and Asylum Seeker Week/Book Week
At lunchtime on Tuesday we had a group of students involved in our Refugee and Asylum Seeker Week events participating in writing activities in the Collaborative Space in the Library, where they were able to write short stories in response to pictures of children in detention center's or write letters to children in detention.
Mindfulness in the Library
Colouring in is an easy way to calm the mind and occupy the hands Mark Robert Waldman explaines that active meditation focuses attention on simple tasks that require repetitive motion. Concentrating this way replaces negative thoughts and creates a state of peace, and many people who have a difficult time with concentrative meditation can find this easier. This gentle activity where you choose the colours to create your picture and the repetitive action of colouring it in focuses the brain on the present, blocking out any intrusive thoughts.
Future Problem Solvers- Mind Your Language
Mount St Benedict College currently have a successful team of girls who have qualified for the International Future Problem Solving Championships to be held in the USA in June. They are part of the Community Problem Solving Team and the focus of their project 'Mind Your Language' has been to educate the College and wider community about the language used by politicians and the media to describe, and often demonise, asylum seekers. The painting below is on display in the Library and represents what the girls want to change in the language people use towards asylum seekers and refugees in Australia. Along with the painting the girls have provided a pledge you may wish to sign. The Community Problem Solving Team can be followed on their Twitter handle @Mindur_Language and on Facebook at communityproblemsolving
Bennie's Welcomes Acclaimed Australian Writer Claire Zorn
The girls were delighted to host acclaimed Australian writer Claire Zorn to Bennies last term where she spoke to them about her life as a writer and where she get he writing inspiration from. Claire recently wrote about her visit to Bennies on her blog All The Kings Horses where she also attached 3 of our year 8 girls' book trailers for her book 'The sky so heavy'
Photo Gallery
Sydney Writers Festival
Ella meets Will Kostakis and his YiaYia
NEW!!! Follow us on Instagram
Make sure to follow the Bennies Library Instagram page where we will be uploading new books, quotes and displays.
Spineout Digital Magazine
Find your next book here at SpineOut
Read the latest fiction reviews or ask the Library staff how to submit a review yourself
Acknowledgement of Country
Inspirational Quote
Current Displays
Out of this World Books
Travel to Another World
Winter Warmers
What are LibGuides?
LibGuides are a helpful online aid that students can use to support their research especially for assessments. They offer the ability for the Library Staff to integrate a diverse range of information sources and instructional support materials in an organised manner that students are finding easy to navigate.
Libguides are a great place for students to start their assessments providing them with a 'springboard' for their academic research. The guides contain listings of recommended resources for finding information such as books, eBooks, databases, or recommended websites and can be embedded with relevant documents, images, widgets and media files. LibGuides can be created for a specific subject, subtopic or even specific class assignments. LibGuides provide an effective and attractive support for learning which is interactive, engaging, Web 2.0 friendly and available 24/7.
Mrs Shiels' Number of the Week
Mrs Shiels' Number of the Week - 796
Going for Gold

by

Call Number: NFS 796.0994 BAR

ISBN: 9781742755656

Publication Date: 2012

Going for Gold is packed with fascinating facts and trivia on our celebrated sporting history Laps, goals, strokes, marks, aces, and hoops--Australians are Going for Gold! Australia is one of the world's most successful sporting nations. Our talented athletes compete in a range of international events from world championships to the Olympic Games. Over the years we've developed sporting legends and icons who inspire us with their athletic feats and incredible achievements, and remind us of what it means to be determined, passionate and truly Australian. Take a look at favorite Olympic stars such as Cathy Freeman, Dawn Fraser, and the Oarsome Foursome, plus some upcoming sporting champions.

Play on! : the hidden history of women's Australian rules football

by

Call Number: NFS 796 BRU

ISBN: 9781760063160

Publication Date: 2016

Since the inception of Australian Rules football in the 1850s, women have been eager to be involved. More than 100 years ago, they began taking to the field. However, their stories have largely been invisible--side lined, ignored or forgotten. This book showcases the athleticism, hard work and resilience that has kept the women's game alive.

More than sunshine & vegemite : success the Australian way

by

Call Number: 796.0994 FER

ISBN: 9781920831349

Publication Date: 2016

Looks behind the years of sporting triumph at the secrets of Australia's success. Describes what we have to do to stay on top and threats that could trip Australia at the next turn.
Mrs Shiels' recommended reads
Olivia Twist

by

Call Number: FIC HIS LAN

ISBN: 9780310763413

Publication Date: 2018

Olivia Twist is an innovative reimagining of Charles Dickens' classic tale Oliver Twist, in which Olivia was forced to live as a boy for her own safety until she was rescued from the streets. Now eighteen, Olivia finds herself at a crossroads: revealed secrets threaten to destroy the "proper" life she has built for herself, while newfound feelings for an arrogant young man she shouldn't like could derail her carefully laid plans for the future. Olivia Brownlow is no damsel in distress. Born in a workhouse and raised as a boy among thieving London street gangs, she is as tough and cunning as they come. When she is taken in by her uncle after a caper gone wrong, her life goes from fighting and stealing on the streets to lavish dinners and soirees as a debutante in high society. But she can't seem to escape her past ... or forget the teeming slums where children just like her still scrabble to survive. Jack MacCarron rose from his place in London's East End to become the adopted "nephew" of a society matron. Little does society know that MacCarron is a false name for a boy once known among London gangs as the Artful Dodger, and that he and his "aunt" are robbing them blind every chance they get. When Jack encounters Olivia Brownlow in places he least expects, his curiosity is piqued. Why is a society girl helping a bunch of homeless orphan thieves? Even more intriguing, why does she remind him so much of someone he once knew? Jack finds himself wondering if going legit and risking it all might be worth it for love. Olivia Twist is a jacketed hardcover with decorative embossing.

Misfits

by

Call Number: FIC FAN CAL

ISBN: 9781492651284

Publication Date: 2018

A brand-new series from Jen Calonita, set in the world of Fairy Tale Reform School! Not everyone born royal is meant to rule... "Funny, charming, and rebellious."--James Riley, New York Timesbestselling author of The Story Thieves series and the Revenge of Magic series In Enchantasia, becoming a legendary prince or princess doesn't happen overnight. Enter Royal Academy, the training ground for the fairy tale leaders of tomorrow! But Devin has major reservations about her new school and her royal future. How can she be a princess and the best creature caretaker Enchantasia has ever seen? It doesn't help that there's something seriously weird about RA's headmistress. Olivina seems obsessed with preparing students for possible attacks from villains ("A royal can't rule when they're stuck in a tower!") Devin gets that being Snow White and Rapunzel's fairy godmother has probably made Olivina pretty paranoid, but anytime someone steps a toe out of line, Olivina becomes more of a fairy nightmare than a fairy godmother. Something isn't right with this lady, and Devin is determind to find out what. But what Devin discovers could change the fairy tale world forever... Don't miss The Fairy Tale Reform School series: Flunked Charmed Tricked Switched

The language of thorns : midnight tales and dangerous magic

by

Call Number: FIC FAN BAR

ISBN: 9781510104518

Publication Date: 2017

Love speaks in flowers. Truth requires thorns.

Travel to a world of dark bargains struck by moonlight, of haunted towns and hungry woods, of talking beasts and gingerbread golems, where a young mermaid's voice can summon deadly storms and where a river might do a lovestruck boy's bidding but only for a terrible price.

Inspired by myth, fairy tale, and folklore, #1 New York Times—bestselling author Leigh Bardugo has crafted a deliciously atmospheric collection of short stories filled with betrayals, revenge, sacrifice, and love.

Perfect for new readers and dedicated fans, these tales will transport you to lands both familiar and strange—to a fully realized world of dangerous magic that millions have visited through the novels of the Grishaverse.

This collection of six stories includes three brand-new tales, all of them lavishly illustrated with art that changes with each turn of the page, culminating in six stunning full-spread illustrations as rich in detail as the stories themselves.
Featured eBooks
Sabrina the Teenage Witch

by

Call Number: eBook

ISBN: 9781682558058

Publication Date: 2019

Sabrina is a teen witch who's struggling with balancing the double life of high school and her burgeoning powers. Newly relocated to Greendale with her aunts Hilda and Zelda (also witches), Sabrina is trying to make the best of being the new girl in town which so far includes two intriguing love interests, an instant rivalry, a couple of misfits that could turn into BFFs, and trying to save the high school (and maybe the world) from crazy supernatural events.

To Kill a Queen: An Elizabethan Girl's Diary 1583 -1586

by

Call Number: eBook

ISBN: 9781407108124

Publication Date: 2008

This is the diary of 12-year-old Kitty Lumsden, the daughter of Bloody Tower diarist, Tilly Middleton, who now lives with her family near the Thames, not far from her old Tower home. The drama is set against the historical backdrop of the Babington plot to end Elizabeth's life and put Mary Queen of Scots on the throne. But far from being innocent bystanders, the Lumsden family becomes intricately involved in a mass of secrets and spies...

Excuse Me While I Ugly Cry

by

Call Number: eBook

ISBN: 9780063024816

Publication Date: 2021

Excuse Me While I Ugly Cry by debut author Joya Goffney is an own voices story of an overly enthusiastic list maker who is blackmailed into completing a to-do list of all her worst fears. It's a heartfelt, tortured, contemporary YA high school romance. Fans of Jenny Han's To All the Boys I've Loved Before and Kristina Forest's I Wanna Be Where You Are will love the juicy secrets and leap-off-the-page sexual tension. "A hilarious and swoonworthy story." --Kristina Forest, author of Now That I've Found You "A fun, emotionally rich romance with a sweet, imperfect character who will win your heart." --Liara Tamani, author of All the Things We Never Knew Quinn keeps lists of everything--from the days she's ugly cried, to "Things That I Would Never Admit Out Loud" and all the boys she'd like to kiss. Her lists keep her sane. By writing her fears on paper, she never has to face them in real life. That is, until her journal goes missing . . . Then an anonymous account posts one of her lists on Instagram for the whole school to see and blackmails her into facing seven of her greatest fears, or else her entire journal will go public. Quinn doesn't know who to trust. Desperate, she teams up with Carter Bennett--the last known person to have her journal--in a race against time to track down the blackmailer. Together, they journey through everything Quinn's been too afraid to face, and along the way, Quinn finds the courage to be honest, to live in the moment, and to fall in love.
Book of the Week
The Icicle Illuminarium

by

Call Number: FIC MYS GEM

ISBN: 9780857985675

Publication Date: 2016

The mysterious Lady Adora has a plan for the Caddy kids, but it doesn't involve chocolate and games . . . Kick, Bert, Scruff and Pin are rejoicing - Dad's been found! But he's ill from his wartime experiences, and he's sent away to recover. Then a hint from the butler sets their hearts racing. Could their mother still be alive too? The four siblings begin a wild goose chase to search for clues. But it all goes terribly, horribly wrong when they're kidnapped. They're imprisoned in the Icicle Illuminarium - the coldest, loneliest and most falling-down mansion in England. Luckily, there might be a secret friend or two to be found in this odd place. Can Bucket, their loyal dingo dog, help Uncle Basti to find them - before Lady Adora can set her plans in motion? Another feel-good tale about four fearless Aussie bush kids who won't take no for an answer - and certainly can't be cooped up for long, even if their captors think they can!